News, Reviews, Interviews & More
'What an audience needs above all else is to believe that they matter, that they have value...'
Monday, August 12, 2019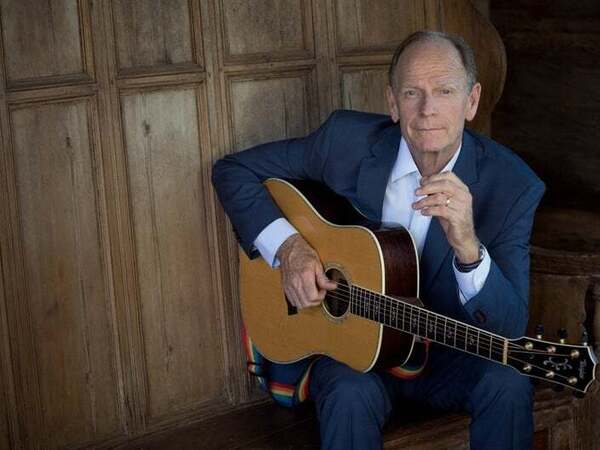 Livingston Taylor: Healing and Salvation at Ridgefield Playhouse
'What an audience needs above all else is to believe that they matter, that they have value...'
Aug 12, 2019 12:06 am ET | Updated Aug 12, 2019 8:49 am ET


RIDGEFIELD, CT — When you realize that Livingston Taylor, appearing Aug. 14 at the Ridgefield Playhouse, has been writing and performing his songs for over 50 years, the math may make you feel old, but the music restores all those years, and then some.
Your streaming service will classify Taylor's work as folk music, but its algorithms were likely overwhelmed by the breadth of the singer-songwriter's repertoire which spans rock, pop, jazz, gospel and Gershwin. Taylor's depth and universal appeal is reflected in the variety of the acts with whom he has toured, including Jethro Tull, Fleetwood Mac and Jimmy Buffett. For his show at the Playhouse, Taylor shares the bill with Janis Ian.
But what sets Taylor's work apart even from that of other acoustic grognards is his elevation of audience interaction as almost its own art. Each performance, among the thousands he has given, is as singular as each new town, each new crowd. He has, literally, written the book on "Stage Performance."
Taylor doesn't just entertain an audience; he infiltrates it.
"What you do, is you watch the audience, watch them come in, you watch them sit down," Taylor told Patch. "You meet them as they're standing in line, put on a disguise and are amongst them. You spend time with them, you watch how they are, and who they are. You take in the details of their community. You talk about them and their lives, talk about how they have saved you, have lifted you, how their presence has filled you."
Those audiences and concerts have never been properly captured or cataloged until February of this year, when Taylor released "The Best of LIVe - 50 Years of Livingston Taylor Live." The album features 11 songs from the artist's upcoming "LIVe - Livingston Taylor Live" box set. That collection will contain 87 never-before-released live recordings on five discs from performances from 1969 through 2016. It will also feature the "Life Is Good" documentary, as well as a book of Taylor's personal notes, memories, archival photos, and interviews.
The Boston-born singer-songwriter has played the Playhouse several times before ("It's just a wonderful place to be!"), and says the audiences here in the quintessential New England town see him as one of their own.
"I tend to draw more people in New England than I do in Southern California," he said. "I'm tall. I'm thin and lanky, and I look like and talk like a Yankee. That's how people feel that way about me."
When he is not touring and performing in front of audiences, Taylor is teaching other people how to do it. He is a full professor at Berklee College of Music, where he has taught a course on stage performance since 1989.
"I'm fond of saying to my students, 'your audience isn't your problem. They're your salvation,'" he said. "Open yourself up to the fact that what you present may not be enough, and that that possibility doesn't panic you, i.e, make you nervous. What it does, is it breaks your heart. The possibility of that breaks your heart. Then, let the audience heal you. Oh, they love that! They love to heal you!"
Livingston Taylor, with Janis Ian, will be playing the Ridgefield Playhouse at 80 East Ridge in Ridgefield on Wednesday, Aug. 14. Tickets are available at the box office and online.
It's a guarantee that your presence will be appreciated.
"What an audience needs above all else is to believe that they matter, that they have value, that their presence is of value. Above all else, an audience must feel better about themselves after they leave than they felt coming in."