News, Reviews, Interviews & More
Old Friends
Wednesday, June 27, 2018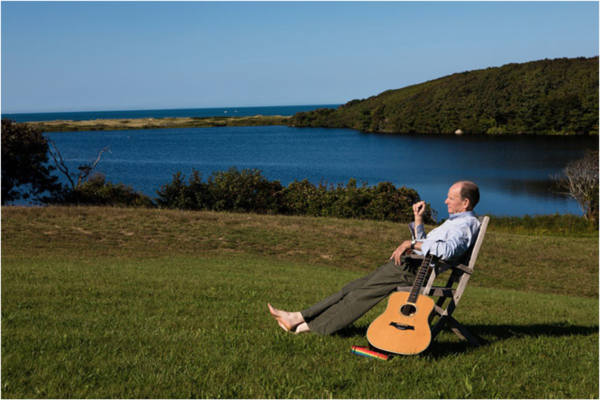 By Lucas Thors

Livingston Taylor performs at the Old Whaling Church with contemporary folk musician Susan Werner on July 6 at 7:45 pm. The performance celebrates 51 years of making music, and promises the audience a blend of old favorites and new debuts.
Taylor has performed at the Old Whaling Church for over 40 years, and every year he brings a new zest to the stage. According to Taylor, one of the most important aspects of performing live is the connection made between the performer and the audience. He's known to speak closely to his audience and make them feel involved. He'll often stop playing to speak directly to the crowd through anecdote and parable. In this way, Taylor makes his music more accessible, and almost seems like an old friend as he jokes and tells stories.
Taylor says it's essential to gauge the crowd's reaction during a stage performance. "One trait that is important for a young artist is the ability to watch what effect your music is having on people," said Taylor. "You have to watch it land."
While Taylor was a professor at Berklee College of Music, he taught a class called "Stage Performance," where he provided aspiring musicians with the benefit of his years of experience.
Taylor explained how teaching made him a better player, and brought him to a new level of musical understanding. "When you teach, it really forces you to learn," he said.
According to Taylor, his own greatest influence growing up was his mother, who would encourage him and his siblings to create jingles for different miscellaneous items around the house. This helped develop his creativity at an early age, and formed his love for showtunes and jingles.
Some of the music he listened to as a budding musician included old folk songs, union songs, and radio jingles. His earliest influences were the likes of Leadbelly, Pete Seeger, Woody Guthrie, and the Weavers. "It's a delight when these flavors come into my music," said Taylor.
The opener for the concert, Susan Werner, is "a very high-level singer and player," according to Taylor. She has played music for 25 years, and has performed with Taylor many times.
Werner said she enjoys doing thematic performances, often combining exotic instruments such as the Cuban tres guitar and the African djembe drum in a "musical love affair." She uses rhythms to lead her music and convey emotion to the audience. "The rhythms communicate my thoughts and feelings even better than words," said Werner. "They speak for themselves."
Both of the artists are multi-instrumentalists, and their music is multifaceted — inspired by nature, politics, and individual experiences.
One of the things that Werner says is central to a good show is enjoying the experience. "You gotta have fun in this line of work, or else what's the point?" said Werner.
The Island, according to Werner, is a "magical place" to play music. She said the experience is something that she looks forward to every year. "The idea of taking a ferry to some faraway place is just so whimsical to me," said Werner. "It has a certain 'Land of Oz' quality where you feel like you're in another world."
Like Werner, Taylor likes to have an overlying theme in his music. Sometimes Taylor's music is topic-oriented, while other times it represents a specific time or place. "I am ferociously curious," said Taylor. "I have been spending a lot of time thinking about many different issues, primarily global warming and nuclear proliferation."
Although Taylor likes his shows to have a thematic overlay, he said he also enjoys making it up as he goes along. "A lot of the time, I don't even know what I'm playing till I get there," said Taylor.