News, Reviews, Interviews & More
Livingston Taylor - The Colonial Theater, Phoenixville, PA, 4/01/2017
Saturday, April 1, 2017
Taylor is a Total Charmer as He Celebrates His Fifty Year Career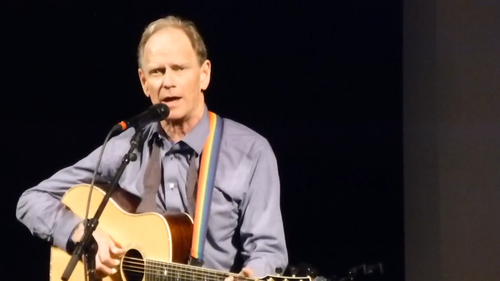 After
Susan Werner
and an intermission, it was time for Livingston Taylor. Taylor's set was either a delightful batch of songs performed in celebration of his now fifty year career,
or
his set may have been a master class in the popular song, giving the crowd a taste of what it might be like taking one of his courses at Berklee College of Music in Boston. In actuality, Taylor's set was a little of both.
A little more than half of his selections were originals, and although he didn't draw many songs from his early days, Taylor's compositions showcased his finely tuned sense of melody with all the lyrical humor and poignancy that his fans have come to expect.
After leading off with "Blame It On Me", Taylor got right to it, talking about Jerome Kern (1885-1945). "He was the grandmaster of the popular song. All he wanted to be was a pop writer, and boy was he ever. He had so much grace and so much dignity that all the young pops that came after him, Richard Rogers, George Gershwin, Cole Porter, they looked at Jerome Kern and said, 'Well if he wants to be a pop writer, so do I', and boy weren't they too."
With that he sang the delightful "Pick Yourself Up", which the more you hear it, the more you realize that it is a perfect pop song. As a standard, it's been done by most of the major pop singers over the years; I've always been partial to the Nat King Cole version. During the set, Taylor came back to this subject a number of times.
Some of the other pop standards in Taylor's set came from the movies, "Never Never Land" from
Peter Pan
, "It Might As Well Be Spring" from
State Fair
, and "Merry Old Land Of Oz" and "Somewhere Over The Rainbow" both from
The Wizard of Oz
. Singer-songwriter Susan Werner, who performed earlier, came back out to join Taylor on "It Might As Well Be Spring" contributing vocals and piano. For the final encore song Taylor sang the medley from
The Wizard of Oz
and Werner added guitar.
There was so much humor in this set it was the kind of concert that keeps you smiling. Taylor's "Olympic Guitar" never gets old and the same can be said for "Railroad Bill", which had the crowd howling with laughter. There were also plenty of favorites from Taylor's records such as "Life is Good", "Pajamas", and "City Lights".
During the introduction to "I Must Be Doing Something Right", Taylor talked about the joy he gets from teaching, then he brought out singer-songriter, musician, and arranger Matt Cusson. Cusson played piano for the rest of Taylor's set, adding his vocals to "City Lights". He returned to the stage during the encore for a rousing version of Stevie Wonder's "Isn't She Lovely". Cusson did the lead vocals and if you weren't looking at the stage, you might have thought that Stevie himself had dropped by to sing. Cusson is highly regarded as an artist and collaborator. He released his self-tittled debut album in 2009.
Livingston Taylor has achieved a body of work in his fifty year career with the excellence of both his songwriting and his cover choices. In any given concert, he can only scratch the surface. Earlier when Taylor was describing Jerome Kern he used the terms grace and dignity, I think that these terms apply equally well to Livingston Taylor. I can say without reservation, after having seen Taylor any number of times, that in performance he is always nothing less than charming.
Many thanks to the Colonial Theater for the sound and lights. Thanks to Beverly Kates for camera work and to Lindsey Mitchell for video production.
- William Kates, Bill's Music Blog