News, Reviews, Interviews & More
Livingston Taylor shares spark behind music, teaching and nuclear physics
Friday, October 19, 2018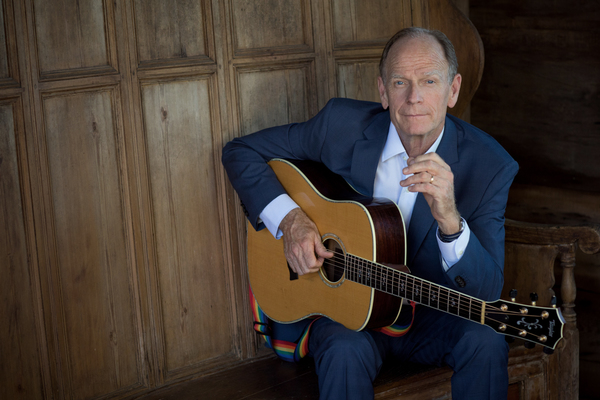 BY RYAN LESSARD
UNION LEADER CORRESPONDENT


DERRY — "In the last few years, I've been absolutely enamored with nuclear physics," said singer, songwriter and Boston-based music teacher Livingston Taylor.

Nuclear physics? Yes. Nuclear physics. For instance, is nuclear fission a suitable replacement for "hydrocarbons" (the main component in fossil fuels), which Taylor said are "highly problematic?" The musician who penned the Top 40 hits "I Will be in Love with You," "I'll Come Running," "I Can Dream of You" and "Boatman" wants to know if it's possible to safely utilize nuclear fission as an energy source while balancing the risks of nuclear proliferation.

These are the questions bouncing around in Taylor's head, like so many colliding atoms.

Parked at a grocery store near his Martha's Vineyard home, Taylor's eyes landed on solar collectors and electric vehicle charging ports. He expressed wonder at the steel that's propping all this up — steel that has become ubiquitous in the modern age, thanks to the mid-19th-century invention of the Bessemer converter, he mused.

Taylor, 67, an artist who has spent more than 50 years of his life performing, sees this interest in energy science as part and parcel of his creative work.

"To be a songwriter, or a painter or a potter or … a writer, you have to be curious," Taylor said. "You need to feed that curiosity engine."

What's more, Taylor said, it's a broad availability of cheap and sustainable energy that leads to a civilization that is free to prosper and procreate and ultimately engage freely in the arts.

That sense of optimism is baked into Taylor's brand. Part of a musical family that includes siblings James and Kate, Taylor has made a name for himself in New England and beyond, not only as a mainstay performer, an elite acoustic guitar and piano player and singer but as a teacher. He's had a 28-year career as a professor at the Berklee College of Music in Boston.

Playing NH

Taylor will play the Tupelo Music Hall in Derry Saturday at 8 p.m. He's performed there numerous times over the years. Tupelo owner Scott Hayward counts 12 times — sometimes joining in with many of his former students who have gone on to have their own music careers. (This is his first time playing at the new Tupelo location since it moved from Londonderry last year.) Some of his former students include John Mayer, Seth Glier, Liz Longley and Charlie Puth.

His classroom curriculum focuses on perfecting stage performance. It means ensuring that each song has a clear and accessible beginning, middle and end. It means keeping the conversation going with the audience between songs. It means respecting your responsibility as a performer to deliver what your audience is paying for.

When Taylor performs, it's more than just a transactional relationship; it's something that sustains him.

"I need my audience. I crave their presence. I crave their approval. I am lonely and not well when I am away from them. Just thinking about my audience at Tupelo gives me huge joy," Taylor said.

The song and the performance are products that Taylor fears are becoming easier to distribute but with fewer checks on quality control.

"What we lost with the internet … were the gatekeepers," Taylor said.

Nowadays, people can make a song and provide them to the masses with greater ease than ever before. But without the "gatekeepers" — the studio owners, the publishers — there is no one refining the product to make it the very best it can be.

So, like the dedicated music instructor played by J.K. Simmons in the 2014 Oscar-winning film "Whiplash," Taylor prods and presses his students not to settle with good, but aim for great.

He also continues to be a mentor to former students, often encouraging them to feed their curiosity engines, lest they fall into a rut of recycling the same tired material.

"The most important advice I can give to my former students is to keep learning," Taylor said.

It's been a banner couple of years for Taylor, who had a holiday named after him when Jan. 18, 2017 was dubbed "Livingston Taylor Day" by Massachusetts Gov. Charlie Baker and Boston Mayor Marty Walsh.

Livingston Taylor Day

That was just a fun bit of publicity dreamed up by his manager to mark his 50th year of performing, Taylor said. They celebrated with a party at a Boston nightclub. Taylor said there wasn't anything special about the date.

"Had to be some day, and that day is as good as any," he said.

Taylor and his classroom are also the subjects of a new documentary film called "Livingston Taylor: Life is Good" that started making the film festival circuit earlier this year.

He said he was approached by the filmmakers Tracey Anarella and Peter Fish about three years ago. But he said he didn't want to be the sole subject of the film, and suggested they do something that includes his students at Berklee.

"I personally bore me," Taylor said. "I'm not good enough looking or interesting enough to sustain a film.

"Fill it full of good-looking young people," he told the filmmakers. "And they did, and it turned out great."

In addition, he's been revisiting and reworking some songs in his repertoire lately. Taylor said he's a much better piano player now than he was 20 years ago. There's a song called "With You I Belong," which Taylor said he developed a couple decades ago and set aside. Recently, he found the song and added a bridge that allowed the song to fully mature, as he puts it. He debuted the song about a month ago. He also reworked a song called "Just Once in a Very Blue Moon," written by his songwriter friend Pat Alger.

To keep things energized, Taylor follows the same advice he gives his former students: Keep learning. Teaching is itself one of the best ways, he said. Ideas bounce off each other, a wiser artist picks up old scribbles with fresh eyes and old meets new.