News, Reviews, Interviews & More
A message from Liv Taylor's manager and summer shows
Friday, June 23, 2017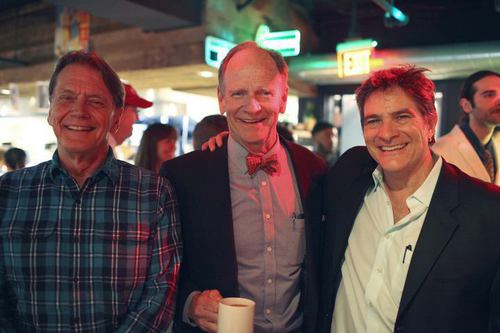 Greetings from Ralph Jaccodine,
The date was July 16, 1975 I was president of a student government group in my hometown, The Allentown (PA) Council of Youth which presented Livingston Taylor (along with Dave Mason and the Nitty Gritty Dirt Band) at the Allentown Fairgrounds. This was a thrilling day for me as I met Liv, one of my musical heroes, that day. I snuck into his backstage room, got his autograph, took photos on my new camera, and had the thrill of my 17-year-old life. This kick started a lifelong appreciation of Liv and his music, which eventually led to a friendship and today, after 25+ years of managing numerous musicians, I now serve as Liv's manager. Needless to say, this is an artist I am thrilled to be working with.


I recently asked Livingston, who is someone who doesn't look backwards, if he had any archives I can look at and/or listen to. About a week later I had some dusty boxes delivered to my office with posters, photos, and an assortment of live recordings and demos. I dug out boxes of reel to reel tapes, cassettes, CD's, old photos, what I call the 'lost Liv archives' from his 50+ year-long career. As I started digging in and digitalizing the old dusty reel to reel tapes, I was completely blown away by the never released, maybe even never listened to, treasures. Concerts from 1969, 1973, 1978. Concerts at prep schools, colleges, clubs, and radio shows. As a longtime fan I am over the top excited about what Liv has had stored away all these years. I want to get this music out in the hands of his fans as soon as possible. Please stay tuned for information about a special release package that we're working on to celebrate the occasion of finding the 'Lost Liv Tapes'. I assure you, you will love this material. I included one of the live tracks, "Sit On Back" from a concert in 1973 so you can hear for yourself.
Livingston just returned from a weekend of shows at the Blue Note in Honolulu, where he learned to surf (you can see it for yourself
here
) to kick of his Summer touring schedule. Here are some of the highlights of his summer tour:
6/28 in San Jose, CA at The Montgomery Theatre! We can't wait to get the summer rolling in the promised land of San Jose this weekend! Come on out and have some fun with us. Get your tickets
here
!
7/1 - in Martha's Vineyard, MA. Livingston's ONLY show on his longtime home away from home, Martha's Vineyard this summer! He'll be joined by the extraordinary
Matt Cusson
and yet another talented Taylor, Liv's nephew, Isaac Taylor, at the historic Whaling Church in Edgartown. Get your tickets for this One Night Only performance
here
!
7/2 in Nantucket, MA at The Dreamland Theater! This show is officially Sold Out! Thank you to everyone who bought tickets to this show, we will make it one to remember!
7/7 - Vinegar Hill Music Theater in Arundel, ME! Vinegar Hill Music Theater is southern Maine's newest live arts entertainment venue! This venue is the former beloved Arundel Barn Playhouse, which completed its final season last year. We can't wait to play this beautiful new venue. Get your tickets while you still can
here
!