Thursday, March 11, 2021
7:30 PM
2nd Shift Music Series - Virtual
Purchase tickets online Tune In Here!
website: www.charlesrivermuseum.org/second-shift-music-series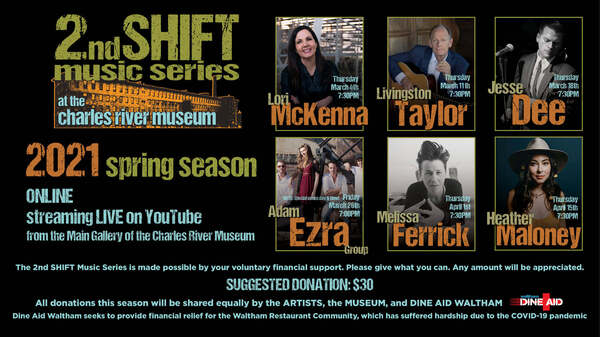 The 2nd SHIFT Music Series is made possible by your voluntary financial support. Please give what you can. Any amount will be appreciated.
SUGGESTED DONATION: $30
All donations are shared equally by the ARTISTS, the MUSEUM, and DINE AID WALTHAM, a fundraising effort to support the local restaurant community.
Dine Aid Waltham is a fundraising effort led by the Charles River Museum of Industry and Innovation to support independent Waltham restaurants and their employees who are under extreme financial stress due to the COVID-19 pandemic. Inspired by a tradition of supporting causes through music, the Museum is committing its three Spring 2021 concert series to help the local restaurant community.
One third of all the funds contributed by donors and sponsors via the concerts will go to Dine Aid Waltham.
The funds directed to Dine Aid Waltham will be split evenly between the Waltham Waiters COVID Relief GoFundMe supporting Waltham restaurant employees and the restaurants themselves.
export this event to my calendar